Pardeep Narwal & Anup Kumar-led teams vying for semis spot
After three days of league action, the Senior National Kabaddi Championships presently underway at Hyderabad's Gachibowli stadium makes its way into the business end of the tournament.
The number of men's teams is down to eight, from 30 teams on 1 January, and these teams will face each other in the quarter-finals on Thursday.
Teams from Uttarakhand, Karnataka, Maharashtra, Uttar Pradesh, Rajasthan, Services, Haryana and Railways have made it to the final eight. Almost every team is filled with Pro Kabaddi stars and here's a look at how each team stack up against their opponent in the quarter-final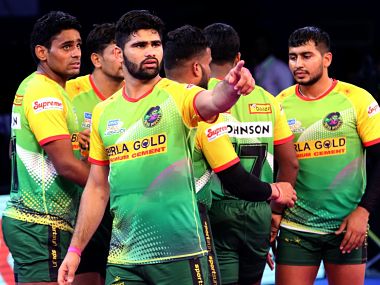 File image of Pardeep Narwal. Twitter/@Patna Pirates
Quarter-final 1
Karnataka vs Uttarakhand (5:45 pm IST)
The Karnataka team captained by Shabeer Bapu boasts off names ranging from breakaway stars from the 2017 season of PKL like Prashant Kumar Rai and K Prapanjan to big names like Sukesh Hegde and S Jeeva Kumar. This heady mix of experience and youth has held them in good stead in their league matches against a top-billed Services and Tamil Nadu.
Karnataka are up against Uttarakhand led by the exceptional Pardeep Narwal who has been ably supported in this tournament by the other youngster, Sunil Kumar. Uttarakhand have had a good run in this tournament so far beating the likes of Andhra Pradesh and Madhya Pradesh.
Quarter-final 2
Uttar Pradesh vs Maharashtra (6:45 pm IST)
The Uttar Pradesh team led by star raider Rahul Chaudhari started off their campaign with a massive win against BSNL and followed it up with successive victories over Himachal Pradesh led by Ajay Thakur and Manipur.
Uttar Pradesh faces probably what can be termed as the strongest side of the tournament — Maharashtra.
The side led by Rishank Devadiga boasts off big stars like Girish Ernak, Nilesh Salunke and Sachin Shingade. They have been in rampaging form defeating Gujarat, Pondicherry, Delhi and Jammu and Kashmir without breaking a sweat.
Quarter-final 3
Haryana vs Rajasthan (7:45 pm IST)
This match is billed as the clash of the heavyweights. The Haryana team led by veteran Anup Kumar is filled with superstars like Manjeet Chhillar, Surender Nada and Sandeep Narwal. A team having stars in every position has had a easy run in the tournament defeating Odisha, Assam and Kerala. Their major challenge came in the pre-quarterfinal against Himachal Pradesh where Haryana just managed to beat the Ajay Thakur-led side to reach the quarters.
Haryana takes on Rajasthan for a place in the semi-final. The Rajasthan side led by a young Sachin has experienced raiders like Deepak Niwas Hooda and Wazir Singh in their ranks. They have had a mix of close encounters and comprehensive wins in the initial stages of the tournament.
Quarter-final 4
Services vs Railways (8:45 pm IST)
Defending champions Services will take on Railways in the last quarter-final match of the day. The star-studded Services line-up consisting of players like Jaideep, Nitin Tomar, Surjeet, Ajay Kumar and Monu Goyat is led by Manish Kumar.
It was a mixed day for Services on Day 2 of the tournament as they trounced Vidarbha (84-19) but lost to Karnataka in the span of a few hours. Services comprehensively defeated Bihar in the pre-quarters to book a quarter-final berth against a strong Railways side.
Railways led by Kuldeep Singh have made their way to the business end of tournament defeating Andhra, Bengal and Madhya Pradesh along the way. The Railways side is bolstered with the presence of stars in every department like Rajesh Mondal, Mohit Chhillar, Shrikant Jadhav and Parvesh Bhainswal.